MacOS Catalina will bring one feature I'm pretty excited about: Sidecar, the ability to use your iPad as a second screen. I've got this awesome iPad Pro that even neatly fits the screen of my MacBook Pro 13″ size-wise, but how to prop it up? Answer: the Compass Pro!
I've been using a MacBook Pro 13″ as my primary machine for ages now and one thing I have been missing is a second display. Sure, I could have bought a monitor but often I'm on the go and if I work at home, I want to be able to quickly put work stuff away once I'm done. Sure, I could have used Duet Display (actually bought it when it first came out and never really used it that much) or Luna Display to extend my desktop but the first one requires me to install 3rd party software on my Mac and the second requires a hardware dongle. With Sidecar, I can prop up my iPad Pro when I need a second screen and put it away if I don't. Perfect for the digital nomad.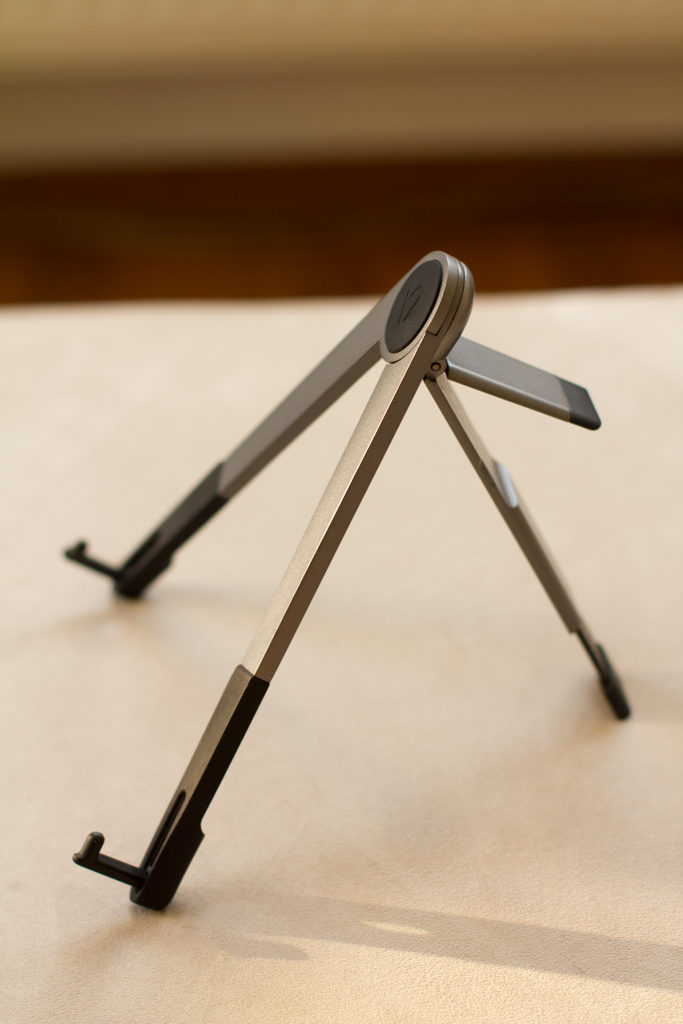 So I was in need of a stand. I did some googling for iPad stands and again, I didn't want some rigid, bulky stand that requires a permanent place. So I ended up with the Compass Pro by Twelve South. The build quality and design is really top notch (okay, the little latches that hold the iPad are a bit tighter than I would like them to be, but hey) and it can be folded away into a little pouch – which comes included – that easily fits into my bag. It offers two positions:
An upright position that is sort of a typical laptop screen angle by using the main back-leg
A titled table position that is similar to what you would use for drawing by folding in the main back-leg and folding out the smaller one.
Both angles are great and are useful even if you don't interact with the iPad but simply want to have a nice reading angle in a café. Speaking of interaction, this is the one weak point for me: it's wobbly. Putting a 12″ iPad Pro on there is possible because the little hooks hold it nicely, but don't expect to do much touching or resting your palm on the iPad when drawing. For normal iPads it shouldn't be much of a problem but the iPad Pro is so huge that the two main legs simply don't extend far enough and after all, it's a tripod, it's in its nature that it will be problematic when pressing in the top most corners.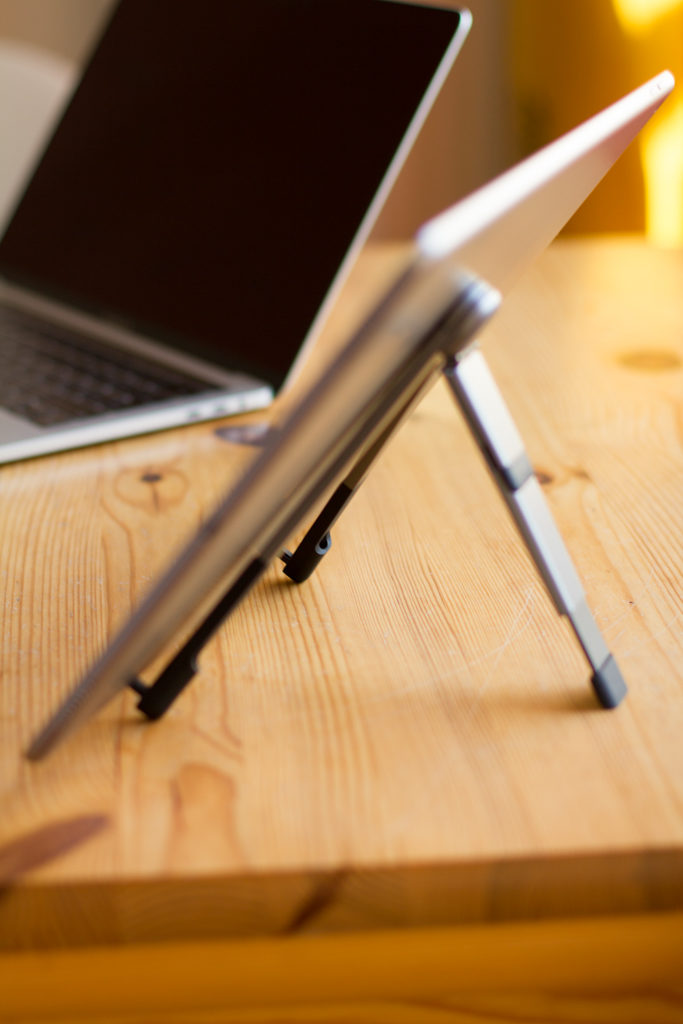 For me, the Compass Pro is pretty much perfect. When I use the iPad Pro as a second screen, I don't use it for touch interaction anyway and it's nice that it's so compact. I can easily put it in my bag along with my foldable keyboard and do some reading/writing anywhere. And if you need something to simply prop up your "second screen" at a nice angle, this thing is very, very nice.